Are you looking for a WordPress development agency to customize your website?
WordPress development agencies will put together a team of coding and design specialists to customize your site, such as creating a custom theme or plugin. They may also offer services like WordPress migration and maintenance, along with digital marketing.
In this article, we will share some of the best WordPress development agencies that can help create the high-quality, custom website you are looking for.
Why Use a WordPress Development Agency?
One of the best things about WordPress is that it's easy to use. Most people won't need to hire a designer or developer to create a website.
However, once your site starts making money, you might consider building a custom website, custom WordPress theme, or custom plugins. In that case, you will need to find a developer to help you get the job done.
You could hire a freelance developer to create the code you need. But for larger jobs, it's often better to use a WordPress development agency. This is a team of professionals who combine their expertise to offer a mix of services.
These services can include website development and design, plugin and theme development, website maintenance, WordPress migration, consulting, marketing, and more.
Of course, hiring a WordPress development agency will cost more than a freelancer, so they are typically used for enterprise and large-scale websites. Depending on your needs, you may want to get quotes from several theme developers, web designers, and agencies.
If you want to make the most of the speed and security of WordPress.com's VIP managed hosting services, then you should also look for an agency that is a WordPress.com VIP partner.
With that being said, let's take a look at some of the best WordPress development agencies you can hire to take your website to the next level.
10up is a web design and consulting firm with decades of experience in open-source platforms like WordPress.
Their services include website design, custom plugin development, and website optimization.
They also contribute hours of development to the WordPress.org project by submitting patches and employing dedicated staff to work on it.
10up has also developed 25 free plugins, including MPL-Publisher, which can help you turn your blog posts into an ebook. They have contributed to the core jQuery project and sponsored jQuery Foundation by supporting their website.
10up is also one of the featured WordPress.com VIP Gold partners. The company has an impressive list of clients with brands like TechCrunch, WP Engine, and GoDaddy, along with organizations like the World Economic Forum.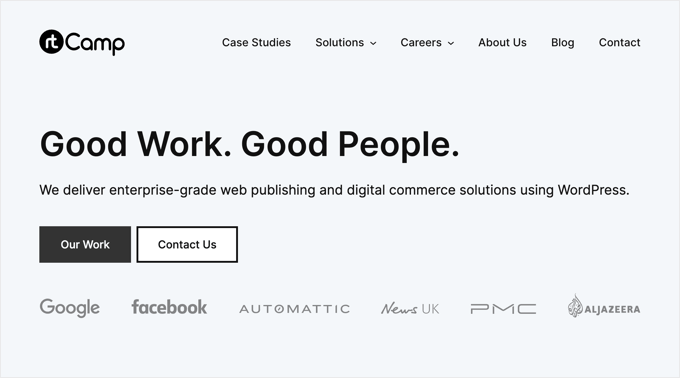 rtCamp is a top global design and development agency that specializes in WordPress solutions at an enterprise scale.
Their services include custom theme and plugin development, WooCommerce development, and more. They can also migrate your website from another platform to WordPress.
They have created several free plugins and themes like rtMoto and rtPanel for the community.
Like 10up, they are WordPress.com VIP Gold partners. Their clients include Fortune 500 companies, government agencies, and household brands like General Electric.
Human Made is a UK-based WordPress design and development agency that provides enterprise-grade WordPress solutions. They are also an official WordPress.com VIP partner.
Their services include custom WordPress design and development, plugin development, theme development, and hosting.
They give back to the WordPress community by sponsoring 12 contributors to various open-source projects.
They also offer several free and paid WordPress plugins, including WP Remote, BackupWordPress, and WordPress Menu Exporter.
They specialize in enterprise-scale development for global brands like News UK, USA Today, TechCrunch, Sony, PayPal, Skype, Airbnb, and many more.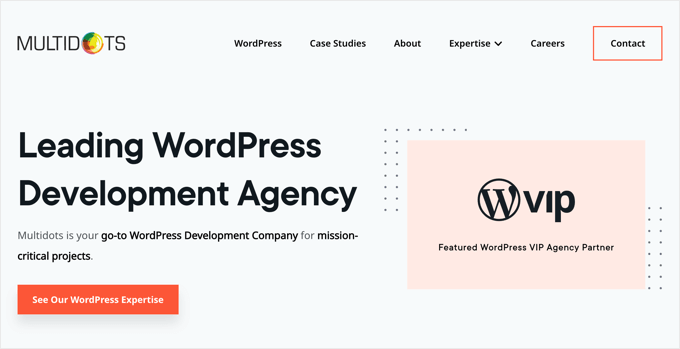 Multidots is an award-winning WordPress development agency with over a decade of experience. They specialize in helping businesses publish content at an enterprise scale.
Their services include custom plugin development, theme development, WordPress implementation, WordPress migration, and website optimization.
They are the creators of MultiCollab, a plugin that allows you to add collaboration to the WordPress block editor, similar to Google Docs. They also sponsor 7 contributors to the WordPress core and are WordPress.com VIP Gold partners.
They have helped enterprises like Ask Media Group, PepsiCo, MIT, Warner Bros, and Ford grow their business websites. They also created a centralized sneaker data repository for Sneaker News.
Fixel is a small and versatile design agency based in Oregon. The company was founded in 2008 when a group of freelancers decided to accomplish more by combining their skills.
Their services include web design and development, as well as branding. They can build quality websites quickly using the WordPress block editor, including eCommerce and membership sites.
Since they are a small agency, you will work directly with the team instead of going through managers. This setup streamlines the process and helps you achieve your goals quickly.
Their recent clients include LegitScript, Lia Griffith, and Better Fellow.